This program gives students a solid foundation of pharmacy fundamentals such as drug classifications, pharmacy calculations and pharmacy laws and regulations. You will also learn how to receive and verify prescriptions and prepare patient medications.
After the theory portion of the program, you will be required to complete 160 hours of externship, which we will arrange for you.
Upon completion, students will receive a Certificate of Completion and may immediately apply for a License at the California State Board of Pharmacy.
Length of Program: 6 months
Schedule: Theory is conducted online
Externship: 160 hours (Walgreens, The Pill Club, UCSF)
Total Cost: $3,607.50
(includes Registration, Tuition, Materials, Supplies, Uniform, CPR Cert)
---
Northern California Nursing Academy is a PTCB-Recognized Education/Training program. Students who have completed the Pharmacy Technician program will be eligible to apply for the Pharmacy Technician Certification Exam (PTCE)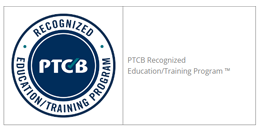 The following requirements should be accomplished for admission to the program:
Completion of Enrollment Agreement
Payment of Registration Fee
Must be at least 18 years old
Must submit proof of 12th grade education or its equivalent: High School Diploma from an accredited school or General Education Diploma (GED). * Foreign graduates must have a high school diploma or transcript evaluated for 12th grade equivalency in the US.
Must possess a valid government issued ID
Must speak, write and understand English
Must possess or in the process of obtaining a Social Security Number at the time of enrollment
Current CPR certification with BLS prior to direct contact with patients
| Session | Time | Status | Start Date |
| --- | --- | --- | --- |
** We are limiting capacity of each class, so please register as early as possible to reserve your spot.
* Class schedule may be changed. Enrollees will be given prior notice.